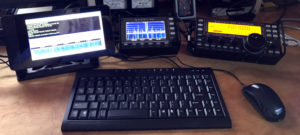 I've been using Raspberry Pi mini computers for lots of little dedicated purpose tasks over the last couple years (VPN servers, print servers, D-Star controllers, arcades, etc) and I decided I'd like to make one to go with my KX-3 portable setup. I've had several questions about it and since it's been about 2 years since I made one, I decided it was past time for a blog post!
My basic desire was to assemble a low maintenance portable peripheral that could be used in the field with my KX-3. I'm calling this a peripheral, and not a computer because I really wanted more of an appliance feel, without the burden of having another computer to manage and care for. I also wanted something that was dedicated to the purpose, so it could live in the bag with my KX-3 and I wouldn't feel the urge to rip it apart and use it for other projects.
The Raspberry Pi, currently at version 3, is ideal for this purpose. It's not the fastest or the lowest power, but it's by far the best known and supported platform. It runs a version of Linux called Raspbian and a desktop environment called Pixel.
Because the Pi is based on Debian Linux, it has a host of ham radio applications available for use. My primary interest is in FLDigi and WSJT-X, but various other programs like Xastir, Direwolf, Chirp, D-Rats and even some panadapters are available from the built in software package manager.