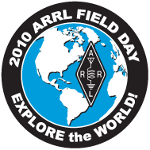 Field Day 2010 is now over and our little 3 man /2 dog station not only made an impressive showing, but we also had a lot of fun.
The homebrew solar panel was completed late Friday night, we had planned for 2 identical panels but time only allowed for 1 to be completed. The panel provided enough current to operate our complete station as well as charge our 200AH battery bank during the day so we could operate well into the night. We measured our consumption as well as the output from the panel, we were 100% solar powered for most of the daylight hours. The homebrew panel was measured putting out over 100W (intermittently) after cabling losses from the panel into the operating area. Our entire operation (2 radios, 2 logging PCs) was based on the solar system, and although I did bring the generator as a backup plan we never even had to consider using it.
The Elecraft K3 performed wonderfully on crowded bands racking up just shy of 100 SSB contacts on various bands. The TS-2000 was used for Digital (PSK31) and also did quite well with just at 100 contacts attributed to it.
When the SSB operator got tired, we would fire up the digital station and work for a while, and then back forth throughout the contest. We remained 1A at all times. It's strange running Field Day with no SSB stations in the background. When we worked PSK31 an eerie silence descended on the station. No audio output from the radio was required and no one was calling CQ into the mic. It was almost as if we weren't operating at all.
Severe storms were building north all day and finally ran through our area at about 2am Sunday morning. The poor band conditions (we're attributing them to the storm) saw to it that that we went to bed at about 1:30am. We woke up praying our antennas were still erect, and they were. We resumed operation at about 6:30am Sunday.
Our antennas were a multi-band windom orientated N-S and a G5RV orientated E-W. We used guyed military surplus 5′ fiberglass poles to get them up about 40 and 30′ respectively. Next time we're thinking of adding a vertical of some form into the mix. Sometimes they can pick out signals better in bad band conditions. We're even considering moving to 2A and to add a full time digital station.
The dogs provided the critical service of cleanup of accidentally dropped consumable.
It looks like all said and done with our bonuses and multipliers we will have scored just about 1000 points during our 24 hour run. Not too bad at all.
Continue on for some pictures of our station…