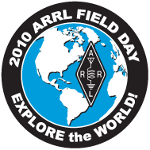 So Field Day is almost upon us so preparations have begun in earnest. We have at least 3 "affiliated" Field Day operations going on in the Des Moines area this year (DRMAA/ARCS, Polk County ARES, W0IW) in addition to several others north of us in Ames area.
Field Day is supposed to be an exercise in emergency communications preparedness but for most it's a great excuse to get together with local hams and have a 28 hour long party. Amateur Radio is one of the last bastion's of true geekdom remaining, so you can be assured it's a geek party.
Preparations is kind of a misnomer for this event. The "hard core" operators all know what equipment they have and what they need to bring to make things work. The extent of preparation for that part of the event is typically a simple "Joe, you have power covered?" "Yes." "Bob, Steve You guys bringing the towers?" "Yep." "Ok lets move onto more important business. How many meals do we need how much charcoal, how much and what kind of meat?" There can be surprising debate over this last issue, especially living in Iowa.
A few years ago back in '07 some friends and I did our own mini Field Day. It was just 4 of us but we had a great time and we decided to do it again this year. We're using it as an excuse to get our gear out and sharpen some skills. Our goal this year is to run 1A, and run it entirely solar powered. It's getting down to the wire but our 300W homebuilt solar panel should be finished in time and it will feed 200Ah of battery capacity. It's our plan to run completely from the battery bank, including radios, logging PCs and lighting.
We have a varied selection of radios to use as desired although we're planning on the main rig being the shiny new Elecraft K3. Backup will be my Kenwood TS-2000 and I'm sure at least 1 or 2 other rigs will make an appearance. We'll be attaching to some wire antennas that we've amassed over the years. I believe the plan is to erect a multi-band windom in 1 direction and a G5RV perpendicular to it.
I have 2 Acer Aspire One d250 netbooks that have direct DC-DC power adapters. They draw just under 2A @13.8V each under worst case circumstances, and generally hover around 1A during use. These are great computers for ham radio. They're small, self contained, low power consumption and they run Windows XP. If they had a built in RS-232 serial port they'd be perfect but USB->Serial converters have gotten much more reliable in the last few years so it's only a minor inconvenience. One will be for logging, and the other will be used for PSK-31 and satellite tracking if I get ambitious and try to make some satellite QSOs.
Oh, and we're having steaks, burgers and brawts. Lost of them. Our grill is propane.